The Historical Society
If you are interested in local or family history and want to meet others with similar interests, The Historical Society and Heritage Centre is the organisation to join. By becoming a member you will also be able to attend our lectures as well as participate in the many social events, excursions and other activities we sponsor throughout the year. In addition you will receive our annual journal and newsletters.
Please visit the Society page to find out more.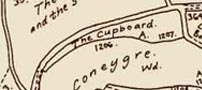 Upcoming Lectures
16/12/2013

In this talk, Dan Evans, will concentrate on the West End of the Abbey: Jacob's ladder, St Peter and St Paul statues, the transepts, the Sanctuary and the chapels of St Alphege, Bird and Gesthemene.

31/01/2014

28/02/2014
Anne Nuttall relates the efforts of the Society in attempting to preserve the stocks and pillory at Ozleworth.
Read More...
Events
28/09/2013 - 25/12/2013

'Mum I'm Bored'