The Historical Society
If you are interested in local or family history and want to meet others with similar interests, The Historical Society and Heritage Centre is the organisation to join. By becoming a member you will also be able to attend our lectures as well as participate in the many social events, excursions and other activities we sponsor throughout the year. In addition you will receive our annual journal and newsletters.
Please visit the Society page to find out more.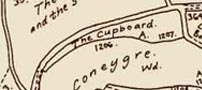 Upcoming Lectures
26/09/2014

The speaker, Dr Simon Draper, is a landscape historian and is the County Assistant Editor for Victoria Counties History (VCH) Oxfordshire. He previously worked for the VCH in Gloucestershire.

31/10/2014

28/11/2014
Dr. David Wilson of Keele University, Director of Excavations at Wortley from 1983 to 1996, gives an overview of the finding at this Roman site.
Read More...
Events
1/05/2014 - 6/10/2014

Join us for Town Hall Teas on the first Sunday of the month.

1/07/2014 - 24/12/2014

The Great War 1900 to 1914 - Life in the Trenches