Shop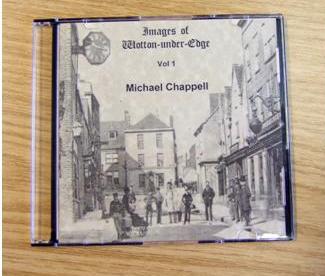 The Heritage Centre has a wide range of gifts for visitors to choose from, including jewellery, locally made handicrafts, toys, books and CDs.
In addition, the Society has a number of CDs of Parish Registers; DVDs of old photographs with commentary; books of old photographs, the history of Wotton and individuals of note related to Wotton.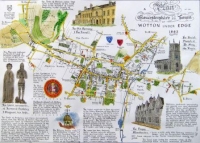 An Historic Map of Wotton - under - Edge
This A3 size coloured map is based on the 1882 Ordnance Survey map of the town at 25 inches to the mile. The map has been annotated with information on some of the historic buildings, people and facts. As well as being of interest in itself it makes an ideal gift when visiting relatives and friends abroad.
£5.00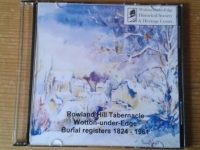 Rowland Hill Tabernacle Burial Register
The Wotton-under-Edge Historical Society holds the original burial and interment register for the Rowland Hill Tabernacle, a non-conformist chapel. The register list over 1,200 burials next to the Tabernacle (now the Wotton Auction Rooms). The cemetery is in three areas, the Old, New and Extension burial grounds and lists interments from 1824 to 1961. The Society has created a searchable Access database of the register together with an alphabetical Excel spreadsheet. Copies of the numbered plot layouts and the regulations of the burial grounds are also included.
£10.00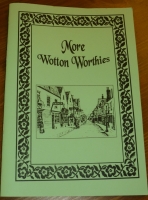 More Wotton Worthies
By members of Wotton-under-Edge Historical Society.
Published by Wotton-under-Edge Historical Society, 2005

A further collection of biographies of notable people associated with Wotton-under-Edge. The 6 articles were originally published in the Wotton-under-Edge Historical Society Journals between 2000 and 2005. All the subjects were either born in or around Wotton or chose to make the town their home. Some have contributed directly to the community, others have enhanced Wotton's name by their achievements. Included are:
Margery Legat - a fourteenth century lady
Sir Charles Blagden M.D., F.R.S, 1748-1820
The Penley Family 1811-1928
Rev. Mathew Blagden Hale 1811-1895
John Southwood 1874-1954
Donald Milner O.B.E., A.R.C.A., M.A., P.P.R.W.A. 1898-1993
£3.00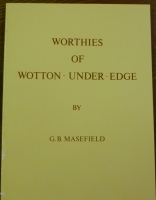 Worthies of Wotton-under-Edge
By G.B. Masefield M.A. D.Sc. Emeritus Fellow of Wolfson College, Oxford, England
Published by the author, 1982


The selection of the '15 worthies' of Wotton-under-Edge that are described in this book has inevitably been a matter of arbitrary judgement. Firstly no living person is included and secondly only real 'worthies' who did some good by their fellow-men have been included. The 15 included:
Joan Lady Berkeley (c.1200-1276)
Katherine Lady Berkeley (c.1320-1385)
Alderman Hugh Perry (1580-1635)
Stephen Hopkins (1581-1644)
Sir Mathew Hale (1609-1676)
John Biddle (1615-1662)
Thomas Rous (1710-1771)
The Rev. Rowland Hill (1745-1833)
Humphrey Austin (1747-1829)
Sir Isaac Pitman (1813-1897)
Henry George Oliver (1870-1947)
Sir Stanley William Tubbs (1871-1941)
Alderman Frederick Holloway (1874-1963)
Charles Alfred Pearce (1878-1962)
Alderman George Frank Titt (1879-1950)

This book is out of print but is available in the Heritage Centre Research Room for viewing.
£0.00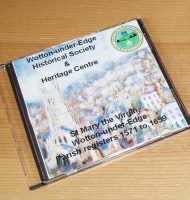 Parish Registers 1571-1659
The Wotton-under-Edge Historical Society holds two volumes of St Mary's Parish registers at the Heritage Centre on behalf of the Parish Church. The 1571-1659 register contains 300 pages of baptisms, marriages and burials. This volume was transcribed by Miss E.C. Perkins, grand daughter of Benjamin R. Perkins, vicar from 1829 to 1881, in 1914 from the original registers. It is in a clear copper plate hand writing, possibly more legible than the original register. The register has been scanned and is available on CD in PDF format. No effort has been made to enhance the text or provide an index of entries. It provides an invaluable source for family history researchers.
£10.00