Shop : Book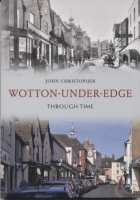 Wotton-under-Edge Through Time
This book provides a snapshot of the town - a double exposure - spanning a period of around 150 years from the earliest days of photography to the present day. The photographs provide a view of how the town has changed and in some instances how little.
£14.99
Four into One.
The Story of the Blue Coat School, Wotton-under-Edge; by Beryl A. Kingan.
Published by Wotton-under-Edge Historical Society 2007

This is the story of four schools which became united as one school. The Blue Coat School was founded in 1693 and the Chipping School in 1836. The Church Infants School merged with the Chipping School in 1893. In 1923 Blue Coat became an Infants School which combined with the Chipping School in 1974 to become Blue Coat C of E Primary School. On 28th February 2000 the school moved to new premises, the impetus for compiling this history, which covers the previous three centuries. The story of the Blue Coat School reflects many of the changes in the history of education nationally.
£10.00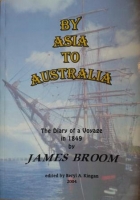 By Asia to Australia - an 1849 Diary
The Diary of a Voyage in 1849 by James Broom; edited by Beryl A. Kingan.
Published by Wotton-under-Edge Historical Society 2004

This Diary covers the first two months of a voyage form Plymouth to Adelaide, and the start of a return voyage in 1851. The diary was found in the Society's archives within memorabilia of the Foxwell family, whose home was the Post Office in the nineteenth century in Wotton-under-Edge.. Research has revealed that the diarist lived in Warminster, Wiltshire and was writing the diary for his mother in Bath. The results of this research are detailed as are lists of passengers and crew.
£4.00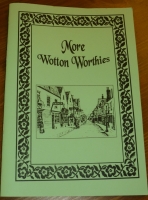 More Wotton Worthies
By members of Wotton-under-Edge Historical Society.
Published by Wotton-under-Edge Historical Society, 2005

A further collection of biographies of notable people associated with Wotton-under-Edge. The 6 articles were originally published in the Wotton-under-Edge Historical Society Journals between 2000 and 2005. All the subjects were either born in or around Wotton or chose to make the town their home. Some have contributed directly to the community, others have enhanced Wotton's name by their achievements. Included are:
Margery Legat - a fourteenth century lady
Sir Charles Blagden M.D., F.R.S, 1748-1820
The Penley Family 1811-1928
Rev. Mathew Blagden Hale 1811-1895
John Southwood 1874-1954
Donald Milner O.B.E., A.R.C.A., M.A., P.P.R.W.A. 1898-1993
£3.00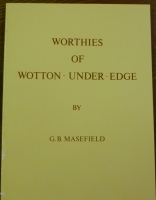 Worthies of Wotton-under-Edge
By G.B. Masefield M.A. D.Sc. Emeritus Fellow of Wolfson College, Oxford, England
Published by the author, 1982


The selection of the '15 worthies' of Wotton-under-Edge that are described in this book has inevitably been a matter of arbitrary judgement. Firstly no living person is included and secondly only real 'worthies' who did some good by their fellow-men have been included. The 15 included:
Joan Lady Berkeley (c.1200-1276)
Katherine Lady Berkeley (c.1320-1385)
Alderman Hugh Perry (1580-1635)
Stephen Hopkins (1581-1644)
Sir Mathew Hale (1609-1676)
John Biddle (1615-1662)
Thomas Rous (1710-1771)
The Rev. Rowland Hill (1745-1833)
Humphrey Austin (1747-1829)
Sir Isaac Pitman (1813-1897)
Henry George Oliver (1870-1947)
Sir Stanley William Tubbs (1871-1941)
Alderman Frederick Holloway (1874-1963)
Charles Alfred Pearce (1878-1962)
Alderman George Frank Titt (1879-1950)

This book is out of print but is available in the Heritage Centre Research Room for viewing.
£0.00
Sorry, no items found.....