The Birdlip Grave Group
23/03/2018
The Birdlip Grave Group is the surviving material associated with a multiple burial found in the 1880s. Opinions differ on the identity and even the gender of the original owner. This talk considers the options and looks in fine close-up at many finds.
Malcolm J Watkins worked for Gloucester City Council during 4 decades and became the Strategic Cultural Manager responsible for the City's archaeology collections, including the Birdlip Grave Group and much other internationally-important material. He retired from public service in 2007 and founded Heritage Matters to provide living history events, talks and lectures and publications.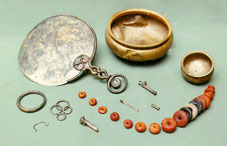 In 1879 workmen discovered three skeletons in a quarry between Crickley and Birdlip overlooking the Vale of Gloucester. With the bones, were some amazing Iron Age artefacts. The most important object is a handheld mirror of bronze. The front of this was originally highly polished for reflections, but the rear is decorated with flowing patterns worked into the metal. It is one of the finest items of Celtic art to survive in Britain and perhaps the finest example housed outside a national museum. The smaller items are also remarkable. There are fine bronze bowls and bracelets. The stylised face of a bird or animal can be seen in a silver gilt brooch and a bronze knife handle is shaped as the head of a bull or ox. There is also a bead necklace of amber and an exotic stone possible collected from as far away as China.
Wotton-under-Edge Civic Centre
2 Gloucester Street, Wotton-under-Edge, GL12 7DN
Friday 23rd March 2018 at 7.30pm
Visitors welcome.
Non-members £5 on the door